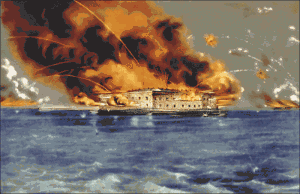 Today marks a dark day in US history: The shots on Fort Sumter that are officially considered the opening volleys in the Civil War rang out today.
The Civil War could in some respects be considered a rite of passage for a still-young country determining what its ideals and principles were going to be. But it was a profoundly costly one in terms of the loss of human life, as brother fought against brother— and even against sister (National Archive story).
Detailed history, including current day activities and reactions can be found on many news and historical organization sites:
You can also hear excerpts from the collection NPR American Chronicles: The Civil War on our website.