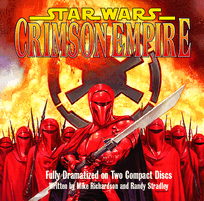 Star Wars: Crimson Empire is a full-cast audio drama adapted from a 6-issue comic mini-series published by Dark Horse. The comic was written by Mike Richardson and Randy Stradley with interior art by Paul Gulacy and covers by Dave Dorman. Issue 1 was released in December 1997. The comic has since been released in a number of formats including collected hardcover and paperback editions, and spawned two sequels.
Originally released on two cassettes, now available as a two-disc CD set, Crimson Empire features original Star Wars movie music and sound effects. The drama stars Patrick Coyle as Kir Kanos, Robert Downing Davis as Carnor Jax, and Nichole Pelerine as Mirith Sinn. It was directed by Peter Moore, and produced by Tom Voegeli (the same Grammy-award winning producer who worked on the radio adaptations of Star Wars, The Empire Strikes Back, and Return of the Jedi). The cover and inside panels feature fantastic art from Dave Dorman, the same artist who did the covers for Dark Horse's comic series, which is a total bonus.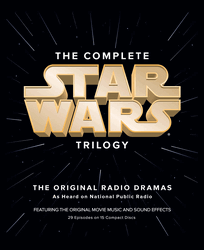 The idea of adapting a adapting a comic book into an audio drama may seem odd, or even impossible, but many had that same feeling back in 1981 when the original Star Wars movie was adapted into a radio play. How can something so visual be translated into a medium that can't technically be seen? Well, as Star Wars the Original Radio Drama proved back then, not only is it possible, the results can be a spectacular auditory experience like no other. John Madden was famously quoted when he was directing Star Wars the Original Radio Drama: "You may think you've seen the movie; wait 'til you hear it." The same can be said about Crimson Empire: You may think you've read the comic, but wait 'til you hear it.
The story takes place immediately following the events of the Dark Empire series. Crimson Empire does not include the main Star Wars characters (Luke, Leia, Han, etc.), but rather introduces new members into the Star Wars universe. It ventures into the history of two of the Emperor's elite Royal Red Guards and their journey through the ranks of the Empire as comrades and eventually as arch enemies.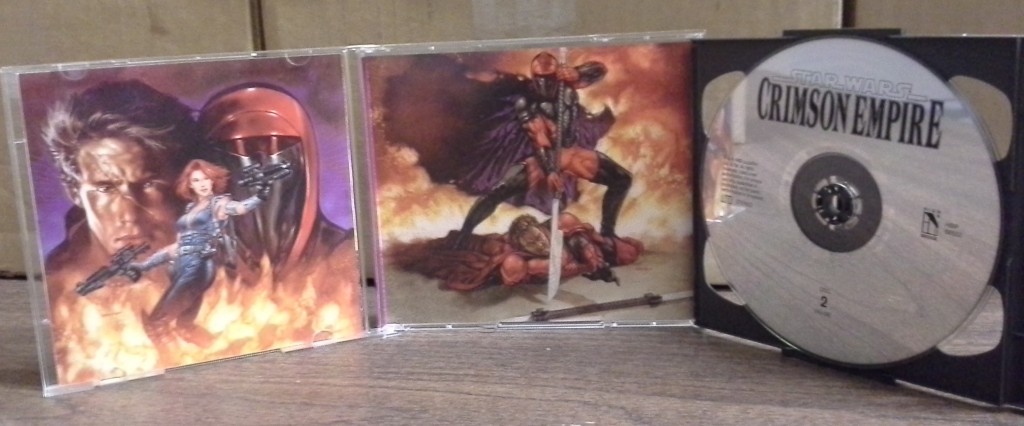 In the wake of the events following Dark Empire, the forces of the Imperial Remnant are now under the rule of former Imperial Royal Guard Carnor Jax. Jax is obsessed with locating a fugitive named Kir Kanos, also a former Imperial Royal Guard.
A couple of off-duty Imperials get into a drunken bar-fight on the distant and remote world of Phaeda. The man they brawl with? That's right: Kir Kanos. Kanos is given shelter by a man turns out to be a part of the Rebel Alliance (now finally gaining a political foothold in the galaxy as the "New Republic"). Kanos soon finds himself caught up in a ragtag group of rebels under the command of lieutenant Mirith Sinn.
An Imperial attack on the Rebel base forces Kanos to display his extraordinary combat skills.  After the invasion, Kanos divulges his history, and the fact that he has sworn a "blood oath" against Carnor Jax. Mirith Sinn expresses interest in recruiting Kanos to the Rebel cause, but Kanos insists that he strictly works alone, and only to further his own agenda of killing Jax. What follows is an intergalactic melee of action and intrigue, Star Wars style. It is an exciting adventure, complete with the familiar music and sounds to transport you right smack in the middle of the Star Wars universe.
Crimson Empire along with all the Star Wars full-cast audio dramas are true gems. The voice acting in Crimson Empire is a lot of fun, and it really captures the overall feeling of Star Wars. There is lots of talk these days of an "audio drama renaissance," especially in the science-fiction and fantasy genres. With the advent of podcasting and today's technology, it is getting easier and easier for people to produce high-quality audio dramas right out of their homes. The original Star Wars radio dramas, and the other Star Wars audio dramas that followed, were an important milestone in the world of radio/audio dramas, and have provided inspiration for many people over the years.
Crimson Empire is a great listen for any Star Wars fan young and old, and certainly a must-have for any self-respecting Star Wars collector.