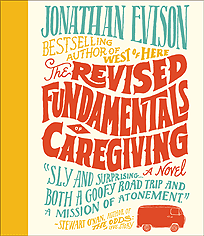 Exciting news! The Revised Fundamentals of Caregiving by Jonathan Evison is being made into a movie! The novel was published in 2012 and tells the story of Ben Benjamin, a man escaping divorce who just barely qualifies as a professional caregiver for a typical video-game-obsessed and sex-crazed teenage boy Trevor, who has muscular dystrophy.
The audiobook is narrated by Jeff Woodman and available at highbridgeaudio.com.
Selena Gomez snagged the female lead role starring opposite Paul Rudd. Donna Gigliotti (Silver Linings Playbook) will produce along with James Spies (Constantine). Production began Jan. 22 in Atlanta. Movie release date TBD.