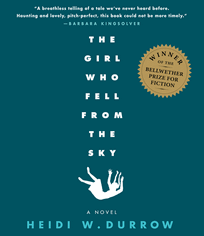 Heidi Durrow, author of The Girl Who Fell From the Sky (Algonquin HC and PB; HighBridge audiobook editions) spoke at Minneapolis independent bookseller Magers and Quinn last Friday. A good crowd came out to meet this debut-author-turned-New York Times-bestselling-author.
The Girl Who Fell From the Sky has been getting much deserved acclaim. It is a Booklist Top 10 First Novels: 2010 and Editors Choice Selection; a People magazine Summer Listen; and a Washington Post Best Novels of 2010 Selection.
The Girl Who Fell From the Sky is a timely and moving bicultural coming-of-age tale, based on a true story and told by an author who has struggled with the same issues as her protagonist. You can read more and hear an excerpt here.
Although others at HighBridge had met Heidi at Workman's BEA gathering two years ago, this was my first opportunity to meet her and speak with her in person. It was a pleasure. To see other pictures from the event see HighBridge's Flickr Gallery.