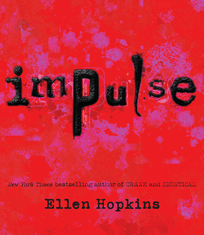 YALSA, the Young Adult Library Services Association within ALA, announced its 2011 Amazing Audiobooks for Young Adult selections. We're pleased to see that HighBridge's Impulse made that list.
YALSA summarizes Impulse this way: "After their failed suicide attempts land them in a psychiatric hospital, teenagers Vanessa, Tony, and Conner forge a friendship while they attempt to resolve their various emotional issues. The narrators provide their characters with distinct, emotionally charged voices."
Author Ellen Hopkins has received some push-back from people concerned about the content of her works. That's understandable, as the situations and emotions are indeed troubling—especially as Hopkins is not presenting sensationalized fiction stories, but stories based on both her own experience and research. If only it were "pure fiction." Hopkins works give a voice to these youth that hopefully leads those in similar situations to seek help, helps others avoid falling into similar situations, and creates sensitivity and awareness.
Congratulations to Hopkins and narrators Laura Flanagan, Jeremy Guskin, and Steve Coombs on their award-winning work.