In today's USA Today, author Richard Louv (The Nature Principle, The Last Child in the Woods) is featured in two articles as part of an extensive week-long Saving Childhood series. The series covers early puberty, chronic disease, how children spend more time indoors, and more. For more information on the series, visit: savingchildhood.usatoday.com.
Today's nature article highlights a nature club in Roanoke, VA, as one of many nature clubs sprouting up around the US to encourage children and families to spend more time outdoors. The article credits Last Child in the Woods as the impetus for this movement and includes quotes from Richard Louv. The article also includes video, a photo galley, and a sidebar column of things families can do outside).
Richard is also quoted in an article on childhood chronic illness, discussing reasons why children spend more time indoors.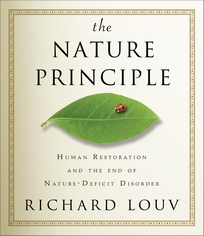 This week-long series also includes a daily Twitter and Facebook chat with USA Today reporter Liz Szabo. Today's chat will be with Liz and Richard Louv discussing children in nature. Join the conversation at #kidschat.
See the HighBridge website for more information on the audio edition of Louv's new title, The Nature Principle.