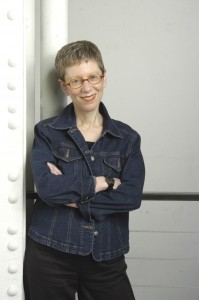 On May 23, as part of the Authors Guild annual celebration, the Guild will honor Terry Gross, host of NPR's Fresh Air, by presenting her with their 2011 Authors Guild Award for Distinguished Service to the Literary Community.
The Authors Guild writes, "Ms. Gross's singular insight and curiosity in exploring writers' ideas have made Fresh Air a vital national forum for American literature that more than 4.5 million readers listen to each week."
Emmy- and Tony-award winning actor—and also bestselling author—John Lithgow will emcee the event, which will be held at the Edison Ballroom in New York City.
Now in its nineteenth year, the Authors Guild Dinner benefits the Authors Guild Foundation, the mission of which is to promote the role of copyright and free speech in maintaining a vibrant literary culture, and the Authors League Fund, which has provided vital financial support to book authors and dramatists in need for more than 90 years. Co-chairs of the event include Judy Blume, Mary Higgins Clark, Patricia Cornwell, James Gleick, John and Renee Grisham, Garrison Keillor, John R. MacArthur, Mary Pope Osborne, Scott Turow, and Stuart Woods.
For more on the event and the award, see the Authors Guild blog.

HighBridge publishes a number of collections from Fresh Air, including the most recent Just for Laughs.