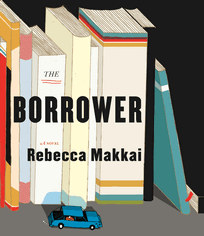 Librarians and booklovers rejoice! The Borrower, the critically acclaimed first novel by Rebecca Makkai, is available on audio today.
The Borrower follows Lucy Hull, a young librarian in Missouri, as she sets out on an impromptu and legally dubious road trip with her favorite patron—ten-year-old Ian Drake, who is fleeing his mother and the antigay classes she enrolls him in.
Booklist gave The Borrower a starred review; BookPage comments, "It may seem inappropriate to call a novel involving a kidnapping heartwarming, but that's exactly what The Borrower manages to be."
IndieBound has selected it for their June Indie Next List, writing, "Makkai's writing is sharp and funny, and book lovers will enjoy the many references to well-known titles, from echoes of the road trip in Lolita to a chapter that is structured like a Choose Your Own Adventure story."
This is Makkai's first novel, but she's definitely put pen to paper (or fingers to keyboard?) before. Her stories have been anthologized by Best American Short Stories for the past four years running, and she's been published in everything from Tin House to NPR's Selected Shorts.
Makkai will also be touring to promote the book through June and July—and she's starting at Magers & Quinn in Minneapolis! That's practically in HighBridge's backyard.
The Borrower audiobook is read by the extremely capable Emily Bauer (who also narrated the much-lauded The Girl Who Fell From the Sky).
An excerpt from The Borrower is now available on HighBridge's website. Go ahead and take a listen!