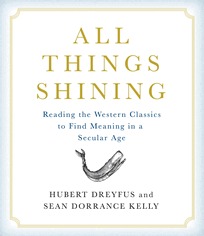 David Drummond, narrator of All Things Shining: Reading the Western Classics to Find Meaning in a Secular World stopped by the HighBridge office this morning to say hello. He's in town this week performing  Guys and Dolls at the Ordway Theater, and was kind enough to pay us a visit.
David did an excellent job with All Things Shining, which David Brooks of the New York Times called "A smart, sweeping run through the history of Western philosophy. . . . important for the way it illuminates life today and for the controversial advice it offers on how to live." It's a wide-ranging look at the loss of meaning in the West, and a gripping guide for how to retrieve it. You can read more and hear an excerpt of David's reading here.
It's always fun to be able to put a face to a voice, and meeting David has gotten me excited to see Guys and Dolls (I have tickets for Wednesday night).  Thanks to David for stopping by!