Today in 1974 the very first broadcast of A Prairie Home Companion was heard from the Janet Wallace Auditorium at Macalester College in Saint Paul. Admission was a whopping $1 for adults and $.50 for the kiddies. It's still a great value now–but what a deal then!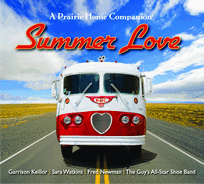 Since then, Garrison Keillor and the APHC team have gone on to produce many hundreds of live shows.
Garrison and the rest of the Prairie Home Companion team are currently participating in the 2011 Summer Love Tour, spanning both coasts before returning to the Fitzgerald. Get out and see them if you can! And, whether or no, check out the collection from the 2010 tour, called (appropriately enough) Summer Love.