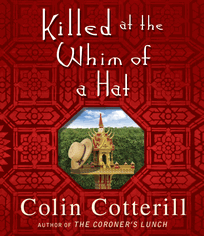 Critics have been unanimous in their praise for Killed at the Whim of a Hat, Colin Cotterill's forthcoming novel and "What may be the best new international mystery series since the No. 1 Ladies' Detective Agency." (Booklist) And starting today, you can listen to this surefire bestseller in the format that everyone from the Guardian to Elle Girl has been raving about lately: audiobook!
Killed at the Whim of a Hat, the first in a planned series from Cotterill, follows Jimm, a Thai crime reporter for the Chiang Mai Daily Mail with a somewhat eccentric family. When she is forced to follow her family to a rural village on the coast of Southern Thailand, she's convinced her career—maybe her life—is over. So when a van containing the old, skeletal remains of two hippies is inexplicably unearthed in a local farmer's field, Jimm is thrilled. Shortly thereafter an abbot at a local Buddhist temple is viciously murdered.
Suddenly Jimm's new life becomes somewhat more promising—and a lot more deadly. And if Jimm is to unravel the inexplicable events, it will take luck, perseverance, and the help of her entire family.
Killed at the Whim of a Hat has been receiving some amazing prerelease press, recieving starred reviews from Booklist, Library Journal, and Publishers Weekly. Library Journal writes, "This outstanding series debut from the author of the Dr. Siri Paiboun mysteries (Love Songs from a Shallow Grave) would appeal to crossover readers who enjoy well-developed ensemble casts and a sense of the absurd. It's not just about Thailand; Cotterill understands people and writes subtle humor like a master."
And Publishers Weekly writes, "Cotterill's excellent first in a new series . . . combines a wry narrative voice with an appealing picture of a world unfamiliar to most Americans."
Killed at the Whim of a Hat is scheduled to be reviewed by Janet Maslin in the New York Times on Thursday, July 21st, and Marilyn Stasio has reviewed it for the July 24th edition of the New York Times Book Review, calling it "beguiling."
Cotterill is an established master of mytery, and this new series secures his place as the foremost write
r of "complex and preceptive, intelligent exotica." (the Guardian) And theater actress Jeany Park is a perfect match as our audiobook's narrator, seamlessly transitioning from humor to murder as Jimm delves deeper into the case. Whether your interested in exotic locales, crazy families, or just some good ol' fashioned murder mystery, Killed at the Whim of a Hat can't be missed!