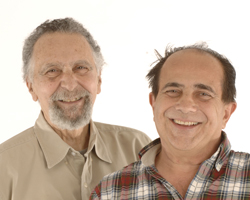 If you already thought the Tappet Brothers had something of the humor of third-graders in them, their new collection featuring children's book author and NPR commentator Daniel Pinkwater both confirms and explains it. Releasing today, Car Talk Classics: The Pinkwater Files is four complete programs from the Car Talk archives, all featuring Click and Clack's favorite call-in guest (and favorite crank): Daniel Pinkwater.
** See below for details on how you can win the CD. **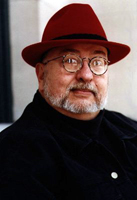 The hands-down highlight of many a Car Talk episode, Daniel Pinkwater is responsible for some of the all-time greatest moments in the program's storied history on public radio. Whether discussing man's best friend (but worst passenger) or searching for the perfect vehicle for those who are "circumferentially challenged," Pinkwater keeps Tom and Ray in stitches, along with the show's far-flung audience.
Car Talk Classics: The Pinkwater Files, features the official designation of the Pinkwater seating standard, the strange case of the motorhead boyfriend, the presentation of the first Car Talk Peace Prize, Stump the Chumps, a puzzler from the Lying Used Car Salesman series, a stirring recitation from a BMW owner's manual, a discussion of puking pooches, and more. It's four perfectly good episodes of laughter and conversation.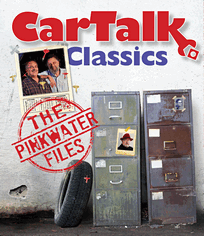 The Car Talk comment boards are full of Pinkwater love: one listener writes, "I enjoy all things Pinkwater on NPR, and hearing this gem again was good for a lot of laughs." And another: "Pinkwater is fine with me, ever since he declared that the VW New Beetle was the easiest car for a fat man to get in and out of."
Millions of people love Car Talk, and Car Talk Classics: The Pinkwater Files, represents some of the best material that Car Talk has to offer.
Win the CD!
In honor of the trio, we're giving away 3 copies of Car Talk Classics: The Pinkwater Files.
To enter:
1. Be an active* subscriber to our newsletter. Just enter your email address below (or follow this link to do the same thing):
2. Send an email to newsletter@highbridgeaudio.com; put the word "Pinkwater" in the subject line.
Entries must be received by no later than 8/10/2011.
*See the Win Audiobooks page for more details.