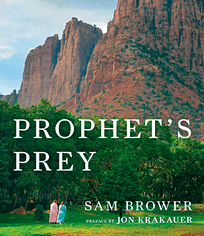 JUST IN: Masters for
PROPHET'S PREY
My Seven-Year Investigation into Warren Jeffs and the Fundamentalist Church of Latter Day Saints 
by Sam Brower; foreword by Jon Krakauer
read by Jonah Cummings.
Tough but RIVETING story.
Get a 1st listen:

Summary:
From the private investigator who cracked open the case that led to the arrest of Warren Jeffs, the maniacal prophet of the polygamous Fundamentalist Church of Latter Day Saints (FLDS), comes the engrossing, horrifying story of how a rogue sect used sex, money, and power disguised under a facade of religion to further criminal activities and a madman's vision.
Publication date: 09/27/2011