Some HighBridge staff, including acquisitions manager Steve Lehman, had the distinct pleasure of hearing Homeboy Industries founder and author/narrator of Tattoos on the Heart Father Gregory Boyle speak when he was in the Twin Cities earlier this spring.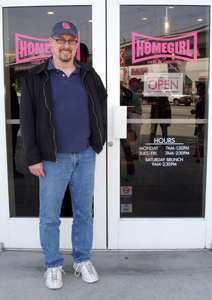 Later this spring, Steve also had the chance to stop by the Homegirl Cafe when he was in Los Angeles visiting friends. He highly recommends it for the food, friendly service, and the cool wall of herbs that are part of the interior decor.
Plus, you've got to love the entire organization's slogan: "Nothing stops a bullet like a job."
These images below are from an informational postcard you can pick up at the cafe.