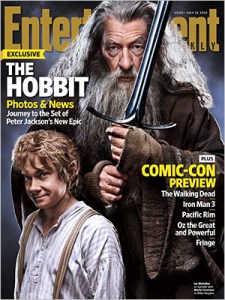 Or, why I went there and back again to the grocery store to pick up a copy of Entertainment Weekly—because the cover story has interviews and pretty much the inside scoop on what's going down Hobbit-wise at ComicCon.
The interesting (albeit not particularly surprising, given some casting information) news is that director Peter Jackson has incorporated storylines from elsewhere in the Tolkien canon into his film versions of The Hobbit. At least, most of the extra appears in the Tolkien canon. Per EW, Jackson put it this way: "Almost everything we're doing is from Tolkien somewhere, whether it's in the book or the subsequent development that wasn't published in The Hobbit itself."
As a Tolkien fan (I'll claim that much. Not perhaps a fanatic, but if you are almost out of fingers and toes to count the number of times you've read from Silmarillion through to the very back pages of The Return of the King, I think you can fairly call yourself a fan)—anyway, as a Tolkien fan, I'll be curious to see what storylines might be there that both are and are not to be found in Tolkien's writing.
But Jackson has done a trustworthy job thus far, so I'll give him the benefit of the doubt. Although I am still trying to forgive him for having Legolas "skateboard" down the side of Helm's Deep.
More HOBBIT news on our Facebook tab.