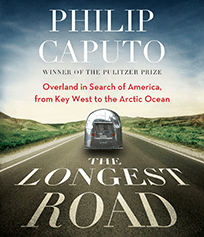 I knew Philip Caputo's The Longest Road: Overland in Search of America, from Key West to the Arctic Ocean (read by Pete Larkin) would be my kind of "listen." I love to travel and when I'm stuck at home, I love traveling vicariously through others' stories and photos. And the more adventurous, the better.
Acclaimed journalist and novelist Philip Caputo, his wife Leslie, and their two Irish Setters set off on a definite adventure—an epic road trip that takes them from the southernmost tip of the continental US, Key West—to the northernmost (as navigable by car), Deadhorse, Alaska—all in a 1962 Airstream named Ethel, and all by avoiding the interstate highways. Along the way, they encounter every imaginable kind of American from small towns and the fascinating country in between—places many of us forget even exist.
I was especially captivated by narrator Pete Larkin, who brings the travelogue alive with his nuances in accent and dialect. The regional variety of geography, place and people were highlighted by Larkin's personable and expressive reading. Larkin must have loved this story, and it shows. I really can't imagine experiencing this book any other way, given the interviews and conversations generously recounted throughout.
Laugh-out-loud funny at times, touching and heartbreaking at others, I was fascinated as I re-visited places I've been, reminded of places I've always wanted to visit, and introduced to towns and vast swaths of America I know nothing about.
A theme and recurring question asked to folks Caputo encountered along the way was: given that our country seems more polarized than ever, what holds this vast and diverse country together, if in fact you think anything does? From recent immigrants to those who can trace their heritage in this country back many decades, the responses Caputo receives to this multi-layered question come in many forms and surprising ways—and some admit they have no idea!
The seasoned reporter in Caputo rises to the occasion as he inserts bits and pieces of history and nicely ties them to place. I was especially taken with the journey north of the border as he hits the Alaska Highway to his final destination along the North Slope.
My enthusiasm for undertaking such a trip is tempered by Caputo's wry recounting of the trials and tribulations of traveling for months in incredibly close quarters through challenging terrain and climate, even with those you love the most in this world! Four months and 17,000 miles: what a trip. Ok, I DO want to get back on the road! And so will you.
"In the end though, the journey had been the destination…" –Philip Caputo, The Longest Road