First published in the mid-1990s, Penance was David Housewright's first novel, and won the Edgar Award for the Best First Novel. A Minnesota native and resident, Housewright has gone on to write more than ten novels to date, with about as many short stories under his belt.
Penance was released under the Mysterious Press-HighBridge Audio Digital Classic banner earlier this year. It's an absolute must-listen for fans of the genre.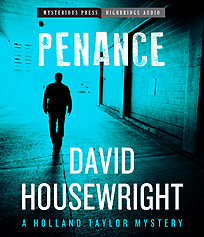 Holland Taylor is an ex-cop turned PI who lost his wife and daughter to a drunk driver years ago. When the drunk driver is murdered after being released from prison, Holland Taylor immediately becomes the prime suspect. He is quickly cleared of the crime, but finds himself working to figure out who the killer really is. This leads to an investigation which involves him in Minnesota politics. Gubernatorial candidate Carol Catherine "C.C." Monroe is being blackmailed by an old boyfriend, and she wants Taylor to find the blackmailer.
The story eventually culminates with Taylor out-witting those who thought they were two steps ahead of him. Don't underestimate a man who keeps a floppy-eared bunny as a pet.
Personally, I was drawn to the story because it is set in Minneapolis-St. Paul (Minnesota's "Twin Cities"), and, being a Twin Cities resident, I enjoyed the familiar locales throughout the narrative. The setting plays an important part in the story–different streets, suburbs, locations, sports teams, and even the weather–all painted perfectly by Housewright. Housewright's vivid description of Minneapolis-St. Paul will draw non-residents into this unique locale as well.
Another reason I enjoyed this audiobook so much was the fact that it's read by R. C. Bray, who is quickly becoming one of my favorite narrators. He does a phenomenal job on the audio. AudioFile magazine praised Bray's performance on the audiobook, stating: "R. C. Bray delivers a perfect raspy-voiced private eye."
Penance is highly recommended. It is a fantastic and enjoyable crime mystery. It's fast paced, witty, exceptionally well plotted, and just plain fun.