HighBridge is excited to announce that the highly anticipated audio short-story collection, A Darker Shade of Sweden, will be read by a thrilling and impressive array of talent: Carol Monda, Scott Brick, Adam Grupper, Maggi-Meg Reed, Erik Bergmann, and Tavia Gilbert.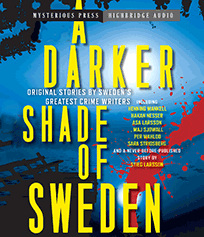 Containing seventeen stories, all never before published in English, A Darker Shade of Sweden illuminates the shadow side of this beguiling country as never before, and promises to be among the most highly anticipated crime fiction of the season.
The anthology includes short fiction from Sweden's greatest crime writers, including Henning Mankell, Håkan Nesser, Åsa Larsson, Maj Sjöwall, Per Wahlöö, Sara Stridsberg, and many more. But the big news is that it includes a never-before-published story by a seventeen-year-old Stieg Larsson, late author of The Millennium Trilogy.
To have these exciting stories paired with this caliber of narrators is certainly a recipe for an electrifying audiobook. Carol Monda is a two-time Audie Award-winner and recipient of the Audio Publishers Association Earphones Award; she has narrated over 100 audiobooks to date. Scott Brick has narrated more than 600 audiobooks, won over 50 Earphone Awards, two Audie Awards, and has been nominated for a Grammy Award. In addition to audiobook narration, Adam Grupper's on-screen credits include appearances on Law and Order and The Sopranos and the film Music and Lyrics. Maggi-Meg Reed has a number of audiobooks to her credit, and also has an accomplished theater career in New York including stage, musical theater, and opera. Erik Bergmann began acting at an early age, and for nearly fifteen years now, he has built a thriving voice-over and audiobook career. Tavia Gilbert is an award-winning narrator with more than 150 audiobooks under her belt.
A Darker Shade of Sweden is edited and translated by John-Henri Holmberg, an Edgar-nominated co-author of the 2011 book Secrets of the Tattooed Girl, a book about the Millennium novels and their author, Stieg Larsson, who was a personal friend. For more than fifteen years, Holmberg reviewed crime fiction for southern Sweden's largest daily newspaper, which gained him the Jan Broberg Excellence in Criticism award as well as election to the Swedish Crime Fiction Academy. He now works full-time as a writer, translator, and editor in Sweden.
A Darker Shade of Sweden will be available February.