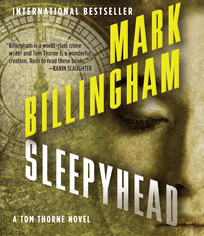 Having listened to Mark Billingham's Sleepyhead, read by Simon Prebble, I believe I may have discovered the perfect way to determine whether you've come across a truly outstanding mystery: Try to explain what you like about it to someone. If you realize you can't without the explanation being a spoiler of some kind, you've got a great mystery.
It can be assumed, as always, that narrator Simon Prebble—a true professional—delivers on every word, character, and plot twist, even if I'm having trouble deciding which if any of these I can tell you more about.
But—other than outstanding narration—since I can't say simply, "trust me, you'll like it," (although perhaps telling you American crime writers like Lee Child, Karin Slaughter, and Michael Connelly also say you should trust them, you'll like Billingham, would do it?), I'll try to dance around the spoilers and give a sense of what you have to look forward to if you start with this first in Billingham's Tom Thorne series.
I'll start with Billingham first: A Brit, Billingham began work as an actor and stand-up comic, eventually contributing to scripts in shows in which he appeared. While even he assumed the natural leap to mystery writing would be in the "comic caper" mode Donald Westlake and others made famous, what came out instead was a dark mystery, more in the style of P. D. James, although Billingham's Tom Thorne is a more rumpled character than the suave Dagliesh, much more just-off-the-beat and seemingly ordinary—and consequently more relatable.
Thorne comes with a backstory: A case that haunts him for his self-assessed failure in preventing the horrific outcome to which he himself was the unlucky first witness. Thorne is known for having a seemingly intuitive sense of who the culprit is on cases, but that sense hasn't always helped him (as in the aforementioned case) and it also can set him at odds with colleagues and superiors who tend to prefer to have a little more hard evidence before drawing conclusions.
Thorne's adversary in Sleepyhead, as we learn early on, has two irregular characteristics for most murderers: First, he is not actually trying to kill his victims; he just wants to leave them in a state known by the name "locked-in syndrome," where the mind appears to be completely conscious and active but the body cannot communicate except, in some instances, through the eyes. Second, he appears to want Thorne to catch him.
I will admit that, although being a P. D. James fan and many of her criminals are sadistic to say the least, I was somewhat put off listening to the Sleepyhead audiobook at first by the darkness of the criminal mind described in the book jacket copy and thus the potential gruesomeness of the novel. But Billingham is far, far too interested in the humanness of his characters to let the story degrade from a crime novel to a horror story. In fact I can say that in Sleepyhead I have encountered the first novel where my favorite character is actually the murder victim (kudos as well to Prebble, who gives her the sass and sauce Billingham clearly intends) and possibly also the first mystery novel that made me cry.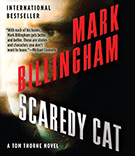 And Billingham also fooled me—not just with the criminal reveal but with the novel's ultimate conclusion. It devolves in keeping with his apparent philosophy of keeping the story human: You can disagree with it, but you can't say it rings false. It's an ending that sticks with you and plays over in your mind. In fact, the only way to get it out might be to pick up the next Tom Thorne novel, Scaredy Cat, which fortunately for you and me both HighBridge also has available.