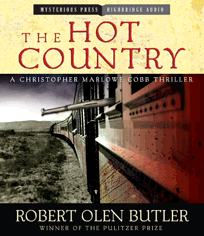 I confess that I've read (or listened to) almost nothing in the historical thriller genre, but if The Hot Country by Robert Olen Butler is in any way indicative of the quality of work to be found there, I need to get busy. Because this novel is as well-written, with characters as three-dimensional and interesting as the best literary fiction. In addition, the little-known aspects of American history through which the story moves are fascinating. Mix in vivid descriptions of the Mexican landscape, beautifully detailed bursts of thrilling action, and moments of stomach-knotting tension, and you get a terrific audiobook listening experience.
Christopher Marlowe "Kit" Cobb, son of an aging but once renowned stage diva (hence the theatrical name of her offspring), is a Chicago war correspondent sent to cover the Mexican Civil War and the American invasion of Veracruz in 1914. There he gets overly involved with a beautiful Mexican sniper of uncertain loyalties, a German salesman who is in fact an American spy, a young Mexican pickpocket who operates as Cobb's eyes and ears in the city, and a brutal German diplomat on a secret mission to arm the legendary Mexican revolutionary general José Doroteo Arango Arámbula—better known as Pancho Villa—and goad him into war with the U.S. While pursuing what promises to be the biggest story of his career, Cobb ends up in an intense fire fight on the side of the Villistas against the Colorados army of Pascual Orozco, in a duel to the death with an expert swordsman with only his youthful training in theatrical fencing to draw on, and face-to-face meetings—at different times, of course—with both General Villa and the President of the United States, Woodrow Wilson.
It is our good fortune that short story master Butler has chosen to turn his prodigious literary skills to genre fiction. This first offering in the Kit Cobb series is an auspicious one: engrossing, edifying, and hugely entertaining. Ray Chase's narration is smooth, sly, gritty, breathless, hard-edged, and wry at all the right moments. Chase inhabits Cobb with a naturalness that says, "This is what Christopher Marlowe Cobb really sounds like. This is how he tells his stories." Cobb himself is part Michael Herr, part Ernest Hemingway, and in no small part Indiana Jones. In the hands of a master stylist like Butler and a seasoned narrator like Chase, all this makes for twelve hours of riveting listening pleasure.