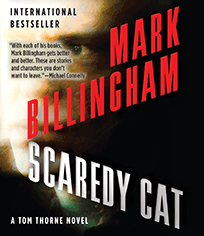 Oh, Mr. Billingham, you fooled me again. You seem so forthcoming in Scaredy Cat, your follow-up to the Tom Thorne series opener Sleepyhead. And narrator Simon Prebble has such a trustworthy voice, doesn't he?
Yet I don't even get through the prologue before I see you're up to your tricks again—and Mr. Prebble is clearly in cahoots with you.
I have to admire the ease with which you disclose a great deal of information yet still manage to hold the ace close to your chest, laying it down undoubtedly with a satisfied smile within the very few remaining minutes of the program. You must enjoy sending us off in a multitude of directions, rabbiting off after quite credible leads (like Thorne and his colleagues, in fact), only to find ourselves wrong—again.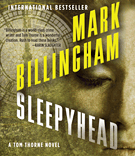 For listeners who haven't yet tried Sleepyhead, there's nothing to prevent you from starting with Scaredy Cat, then going backward, as you'll surely want to. There's only light reference to that original case and no spoilers. Either story will serve listeners well if you're a little low on your Omega-3, as there's plenty of red herring in either you'll swallow (pretty much hook, line, and sinker). Or as another reviewer put it:
"[Mark] Billingham manipulates his readers as relentlessly as the murderer manipulates both his surrogate in crime, and the police."
—The Scotsman
All I can say is I look forward to being manipulated—yet again. Bring on the next Tom Thorne!