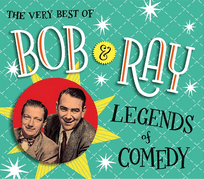 According to the Radio Hall of Fame, Bob Elliott and Ray Goulding were a comedy team of early radio and masters of deadpan satirical dialogue. They hailed out of Boston and started in radio news. Famous for their comedy sketches from the 1940s, 50s, and 60s they were known throughout America for their fake serious broadcasts. To this day, they are much-loved, and remembered as comedy gold.
This 4-CD collection from HighBridge (96 comedy routines, spanning 5 hours) features great moments from their broadcast careers including such hits as: the Slow…Talkers… of… America, Mary Backstayge Noble Wife, Wally Ballou, the Komodo Dragon, and many more.
This set is a great gift for anyone who is a fan of today's Daily Show and Stephen Colbert comedy. Bob and Ray have inspired countless writers and comedians and they will be certain to entertain listeners for years to come.
The four discs come packaged in a beautiful gift box that also contains producer notes and an informative essay by cultural critic, Kerrie Mills. The collection is curated into the following categories: Classics, Soap Operas, Features and Commercials.
There are many great comedy CDs available today for audio fans, however this set is perfect for radio and television history buffs, and a must-have for tomorrow's comedy collectors.
Whether you are heading out on a long car trip or just a short commute, get ready for the dry humor and wry wit of Bob and Ray. Pick up this great collection on CD, and laugh along with royalty, comedy kings from yesteryear.