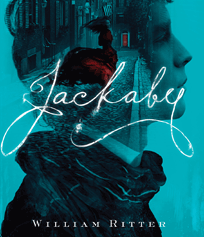 HighBridge is excited to announce Jackaby by William Ritter, a new young adult supernatural mystery from Algonquin Young Readers, releasing this September. We are equally excited to announce that two-time Audie Award winner Nicola Barber will be narrating the audiobook.
Already being billed as a "Doctor Who meets Sherlock," Ritter's debut novel features a detective of the paranormal as seen through the eyes of his adventurous and intelligent assistant in a tale brimming with cheeky humor and a dose of the macabre.
Kirkus Reviews has given Jackaby a starred review, stating: "Ritter's debut skillfully blends science with the supernatural and balances whimsy with violence. The smartly paced plot wraps up neatly, but the rich world of this debut demands sequels."
Nicola Barber is an Award-Winning British voice actor originally from London. She has more than 12 years of voice acting experience. In 2013, she was nominated for an Audie Award for Call The Midwife (also available from HighBridge) in the Solo Female Narration category, which is the highest award offered by the APA. Recently, she has lent her voice to both Call the Midwife follow-ups: Shadows of the Workhouse and Farewell to the East End.
Jackaby will be available on CD and digital download in September.