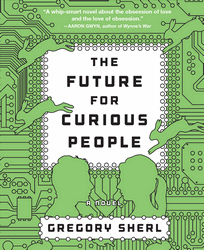 HighBridge is pleased to announce that Heather Corrigan and Justin D. Torres will be narrating The Future for Curious People, a unique and clever new novel by author Gregory Sherl. The Future for Curious People imagines a world in which an "envisionist" can tell you whether your partner is really your soulmate. With this sort of information at your disposal, how could the course of true love not run smooth? Evelyn and Godfrey are about to count the ways.
Heather Corrigan is an actress and voice over artist in NYC. She has narrated scores of books in many different genres, including the recent The Art of Secrets for HighBridge. She received a starred review in Publishers Weekly for her work on When She Woke by Hilary Jordan, also a HighBridge audiobook.
Justin D. Torres is an accomplished voice over actor in New York City. His voice can be heard on countless audiobooks, websites, commercials, industrials, and videogames. If you're in New York, you can catch him on any of his weekly improv teams at the Magnet or the PIT.
The Future for Curious People will be available on audio CD and digital download this September.