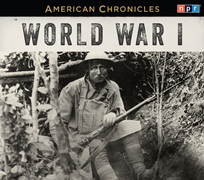 On this date in the year 1914, World War I began. NPR marks the 100th anniversary of the Great War with firsthand accounts from veterans, insightful commentary from leading historians, and detailed stories about battles, battlefields, and the legacy of the world's first global military conflict.
Famously referred to by US president Woodrow Wilson as "the war to end all wars," the first world war eclipsed all previous wars with its scale of destruction. With over twenty-seven nations involved, the battle-field horrors and political outcomes of the first truly global military conflict had repercussions that are still felt today.
NPR presents a vivid portrait of what most experts consider the first modern war, including profiles of America's flying ace Eddie Rickenbacker, unlikely savior of war-torn Belgium Herbert Hoover, and the last surviving doughboy Frank Buckles.
NPR American Chronicles: World War I is now available on audio CD and digital download.
Other volumes in the NPR American Chronicles series include:
The eighth volume in the series, First Ladies, will be published February 2015!
While the role of the first lady has changed dramatically over the course of the nation's history, one thing remains constant: American's have always been fascinated by the wives of the President. Insights into their formative years, their daily routines within the White House, their influence on the public policies espoused by their husbands, and their bold journey into the modern political spotlight have captivated generations of political historians, social critics and tabloid gawkers alike. NPR presents the story of these iconic women as they apply their unique gifts to help transform the role of women in both public and private life. Featuring in-depth profiles of many of our beloved, inspiring, and occasionally enigmatic first ladies, including: Martha Washington, Eleanor Roosevelt, Jacqueline Kennedy, Lady Bird Johnson, Betty Ford, Hillary Clinton, Laura Bush, Michelle Obama and more.