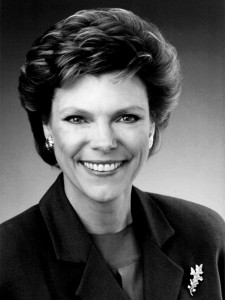 HighBridge is pleased to announce that Cokie Roberts will be the host for NPR American Chronicles: First Ladies.
While the role of the first lady has changed dramatically over the course of the nation's history, one thing remains constant: Americans have always been fascinated by the wives of the President. This collection features in-depth profiles of many of our beloved, inspiring, and occasionally enigmatic first ladies, including Martha Washington, Eleanor Roosevelt, Jacqueline Kennedy, Lady Bird Johnson, Betty Ford, Laura Bush, and Michelle Obama.
Cokie Roberts is a Morning Edition contributor and longtime political commentator for ABC News. She is also the bestselling author of several accounts of women's roles throughout American history: We Are Our Mothers' Daughters, Founding Mothers, and Ladies of Liberty.
NPR American Chronicles: First Ladies will be available on audio CD and digital download February 2015.
Earlier volumes in the NPR American Chronicles series include: