Today is Women's Equality Day. As a young woman myself, I can't describe what this day means to me. We would be living in a much different world if it weren't for these pioneers. Before the Women's Suffrage Movement, people believed the sole purpose of women in life was to cook, clean and take care of the family. There were few job and educational opportunities for women. Women weren't allowed to vote. Socially women were viewed as less superior to men, which unfortunately is still the viewpoint of some today.
Now more women go to college than men. For 2014 graduates, the college enrollment rate was 72.7 percent for young women and 64.0 percent for young men. More women voted in the 2008 election than men. 65.7% (70.4 million) of eligible female voters who voted in the 2008 election versus 61.5% (60.7 million) of eligible male voters. We even have a woman running for President in the next election. The progress is clear, but women's equality is still a continuing struggle. For example, for the last decade, median earnings for women working full time, year-round have been just 77% of men's earnings.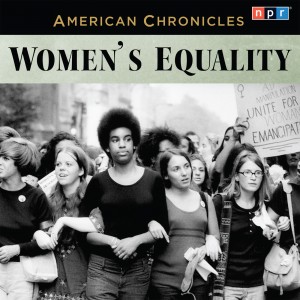 In NPR American Chronicles: Women's Equality, NPR explores the issues, struggles, and triumphs of the American women's movement, from the early pioneers to the leaders of today who fight to preserve hard-won rights. Profiles of Victoria Woodhull, Elizabeth Cady Stanton, and Susan B. Anthony provide insights into the origins of the movement, while reflections from Betty Friedan, Gloria Steinem, Bella Abzug, Geraldine Ferraro, and others reveal the passion and dedication required to maintain progress in the continuing struggle for women's equality.