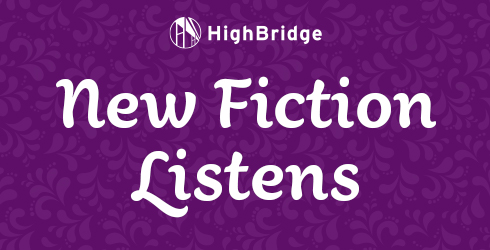 Swashbucklers
By Dan Hanks
Read by Dan Calley
Publication date: 11/09/2021
"Swashbucklers brings all the magic of the 80's back to life, and delivers a fun, action-packed tale with heart." – Fantasy Hive
When Cisco Collins returns to his hometown thirty years after saving it from being swallowed by a hell-mouth opened by an ancient pirate ghost, he realizes that being a childhood hero isn't like it was in the movies. Especially when nobody remembers the heroic bits—even the friends who once fought alongside him.
Yesterday Never Dies
By Michael Anderle and Ramy Vance
Read by Gabriel Vaughan
Publication date: 11/16/2021
Ramy Vance and Michael Anderle present Book 3 in the Die Again to Save the World series.
Radiant Fugitives: A Novel
By Nawaaz Ahmed
Read by James Fouhey
Publication date: 11/09/2021
A dazzling, operatic debut novel following three generations of a Muslim Indian family confronted with a nation on the brink of change.
The Titanic Sisters: A Novel
By Patricia Falvey
Read by Esther Wane
Publication date: 11/16/2021
"Falvey (The Girls of Ennismore) delivers the enchanting saga of two Irish sisters who board the Titanic with dreams of new lives in New York City…Falvey does a good job capturing the girls' excitement at leaving Ireland for New York, and of showing Nora's gradual recovery of her memories. This new chapter of Titanic lore is worth plunging into." —Publishers Weekly
From the acclaimed author of The Girls of Ennismore comes a captivating and extraordinary tale of perseverance and bravery. This touching saga of sisterhood—perfect for fans of Fiona Davis and Marie Benedict—follows two young Irish women yearning for independence and adventure, as they set sail on RMS Titanic—the "ship of dreams"—only to be faced with the tragedy of that fabled maiden voyage.
The Singing Forest
By Judith McCormack
Read by Carlotta Brentan
Beautiful and wrenching by turns, The Singing Forest is a profound investigation of truth and memory—and the moving story of one man's past and one woman's determination to reckon with it.
The Big Book of Espionage
By Otto Penzler
Read by Piper Goodeve, Daniel Thomas May, Alex Wyndham
Publication date: 11/16/2021
Edgar Award–winning editor Otto Penzler is back with a new anthology that has gathered the intel on the world's greatest secret agents, declassified here for the first time.
Don't Let Me Be Lonely: An American Lyric
By Claudia Rankine
Read by Janina Edwards
Publication date: 11/09/2021
"Don't Let Me Be Lonely is a book that refuses the safe distance of being a spectator to the lives of others―as well as to our own."―The Rumpus
The award-winning poet Claudia Rankine, well known for her experimental multigenre writing, fuses the lyric and the essay in this politically and morally fierce examination of solitude in the rapacious and media-driven assault on selfhood that is contemporary America.