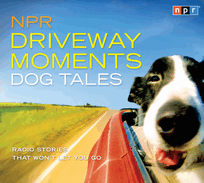 NPR is going to the dogs—in the best possible way, of course.
NPR Driveway Moments: Dog Tales, an audio-only celebration of extraordinary pooches and the lives that they have touched was released just a few weeks ago. And as you can tell from these pictures from NPR correspondent and Dog Tales host Andrea Seabrook, the recording had expert oversight: Seabrook's two basset hounds, Flojo and Lazlo, accompanied her in the recording studio.
If you're an NPR listener, you've probably had your fair share of Driveway Moments. It's when you're driving home, listening to an NPR story. Suddenly, you find yourself in your driveway (or parking space or parking garage). Rather than turn the radio off, you stay in your car to hear the piece to the end. It's a Driveway Moment.

Dog Tales collects the most unforgettable NPR moments exploring canines and their human friends. The stories range from Westminster refinement to Turkish sheep herding and and even to dogs helping our troops in Afghanistan; some are hilarious, others touching, but all are unforgettable.
NPR's talented and versatile Andrea Seabrook acts as host. Her hounds may have helped her in the studio, but you don't have to worry about Basset bias; Labrador retrievers, German shepherds, and countless other breeds are included. Even the 165 lb. Kangal (seriously, have you seen these things?) makes an appearance.
NPR always provides the best possible listening experience, and we're proud to add Dog Tales to the Driveway Moments library.