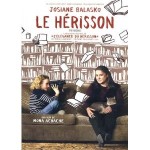 We've come across reference again to the French film version of Muriel Barbery's novel The Elegance of the Hedgehog, this time in the form of a movie trailer (Le Hérisson or The Hedgehog).
The original movie was released in France in 2009, and an English subtitled version came out in 2010. It doesn't seem to have had a wide US release, given how popular the book was here. It came and went before we all had a chance to trek down to a theater to see it.
We've posted the trailer below, but it's in French. Translation, anyone?