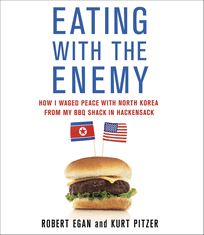 The bizarre but true tale of New Jersey native Robert Egan's experience as an accidental diplomat with North Korea—and "an enlightening, and precarious, experiment in the ways opposing cultures can merge and acquiesce" (Kirkus Reviews)—Eating With the Enemy has been garnering major attention ever since it was published earlier this year. It's been featured in the New York Times, and James Gandolfini will be returning to HBO to star in the movie adaptation.
Now HighBridge is publishing his story as a digital download audio. Narrator Traber Burns captures the full flavor of Egan's story: often hilarious, occasionally somber, sometimes "in-your-face," and always fascinating.
Robert Egan could have been a roofing contractor, like his father. Instead, he opened a barbecue restaurant. His interest in the search for Vietnam-era POWs led to an introduction to North Korean officials desperate to improve relations with the United States. So Egan turned his restaurant into Camp David, with pork ribs.
During tumultuous years that saw the death of Kim Il Sung, the rise of Kim Jong Il, the Bush "Axis of Evil," and North Korea's successful test of a nuclear weapon, Egan advised North Korea's deputy ambassador to the United Nations, informed for the FBI, vexed the White House, and nearly rescued a captured U.S. Navy vessel. Based on true events, this fast-paced tale shows how far one citizen can go in working for peace.
The New York Times calls Eating with the Enemy "a jaunty narrative of one man's sometimes self-indulgent escapades in the face of government ambivalence," and Library Journal writes, "In this engaging, off-the-wall memoir, Egan . . .  demonstrates the power that individual friendships formed across 'enemy' lines can have."
Egan has owned and run Cubby's, a barbecue restaurant in Hackensack, New Jersey for the past twenty-five years. His story has been profiled in Vanity Fair, The New Yorker and elsewhere. Journalist Kurt Pitzer has reported from some of the world's most turbulent regions, including the Balkans, the Middle East, Afghanistan and Iraq. He has written for many publications, including the Boston Globe, The Sunday Times of London, the Los Angeles Times, Mother Jones magazine, BBC Radio and People magazine. He is the 2007 winner of the Dorothea Lange-Paul Taylor Prize for his documentary work in Kosovo, Serbia and Bosnia. In 2003, he was embedded with the U.S. Army's 3rd Infantry Division during the invasion of Iraq.
Both authors and narrator have created a one-of-a-kind audiobook that will leave you shaking your head and wondering, "What do I have to offer to international diplomacy?" Find out how to get started: download Eating With the Enemy today!