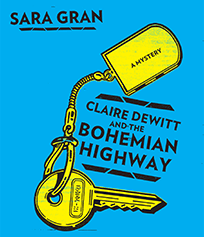 With the publication of Claire DeWitt and the Bohemian Highway (Sara Gran; read by Carol Monda) more and more people are catching on to the Claire DeWitt phenomenon, and I couldn't be more pleased. I knew a quarter of the way into the first book, Claire DeWitt and the City of the Dead, that 1) I really wanted to get it produced on audio, and 2) I'd be a devoted DeWittian (Clairiac?) as the series progressed, and so would many others. And I was right. Claire-voyant, you say? Nah, just always looking for something fresh and edgy in a genre rich with great writing but prone to well-worn formulae and easily recognizable protagonists.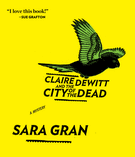 For those of you not yet familiar with the world's greatest private eye (self-proclaimed), she's not exactly in the tradition of Sherlock Holmes. She knows, for instance, that when you've eliminated the impossible, whatever remains, however improbable, is just one of any number of crazy options, since you can't ever eliminate the impossible because who the hell knows what that is? You want to find the truth? Then you've got to go deeper, look into dreams and omens, trust presentiments and peripheral thinking. You see, Claire's investigations extend well beyond a positivist application of collected sensory data, in part because she doesn't limit herself to only five senses. Clues, for her, can be found anywhere. She not only suspects that there are more things in heaven and earth than are dreamt of in our philosophies, she assumes it, and has little time and less patience for those who still haven't figured that out.
If you're looking for mysteries solved by hyper-observation and superior reasoning abilities or neatly constructed drawing room murder plots with tidy conclusions, Claire and her exploits probably aren't for you. I'd suggest going back to Conan Doyle and Agatha Christie and their heirs, not, as they might say on Sienfeld, that there's anything wrong with that. It's just that Claire is a wholly original breed of detective, part mystic, part punk, and part chemically-assisted psychonaut, but with an attitude and code of justice that Sam Spade would not find unfamiliar.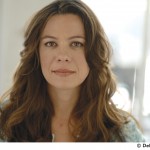 Author Sara Gran says she's working on a treatment for a Claire DeWitt TV series, so keep an eye fixed on the entertainment media or this blog for updates. If that happens, I'll probably have to finally cave and spring for premium cable. Not that there's anything wrong with that.