Star Wars creator George Lucas has received the National Medal of Arts from President Barack Obama in a ceremony at the White House.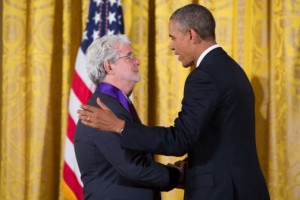 On July 10, George Lucas was among 23 recipients of the National Medal of Arts. President Obama, a notorious Star Wars fan himself, praised Lucas for "transforming" movies and the world of filmmaking.
An official statement released by the White House read: "By combining the art of storytelling with boundless imagination and cutting-edge techniques, Mr. Lucas has transported us to new worlds and created some of the most beloved and iconic films of all time."
HighBridge is the publisher of the original Star Wars Radio Drama, as well as several other Star Wars audio products. In 1981, George Lucas, who had long been interested in radio drama, donated the story rights to the NPR affiliate station at his alma mater, the University of Southern California.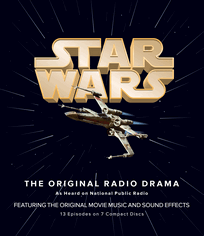 With several actors form the film involved, and using movie's Oscar-winning music by John Williams performed by the London Symphony Orchestra, and Ben Burt's original Oscar-winning sounds effects, the resulting 13-part 6½-hour expanded radio adaptation is nothing less than exhilarating.