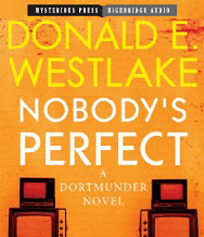 Nobody's Perfect by the late Donald Westlake; read by Jeff Woodman
A Mysterious Press-HighBridge Audio Digital Classics
The saying goes "Dying is easy; comedy is hard." Plenty of mysteries, where the body count climbs without much attention to plot or character, bear that out: all gore, no substance. And after a workday that can seem all murder and misery, sometimes you want better company.
In that case, Westlake's unlucky thief Dortmunder is good company indeed. Here's a man who considers himself a consummate professional—and yet, inevitably, his plans unravel. (Sound like your Monday? Definitely sounds like mine). And much as he'd like sometimes to blame it on his "coworkers"—other motley thieves with various specialties—it just seems to be one particular buddy "Murphy" and that darn law of his at fault.
But what a pleasure it is to hear how Westlake pieces all that misery, misstep, and mayhem together. He makes the comedy look easy, but when you savor the words—easily done when someone like narrator Jeff Woodman is reading them for you—you appreciate the skill behind them.
To pull off a story populated by (just to enumerate a few):
a bartender who refers to people by their drinks ("Your sherry and the 'beer and salt' are already in back waiting for you.");
a sea of kilted, brawling Scotsmen;
an art forger with a very unexpected partner;
a pack of thieves stranger than any Ocean's crew;
and, at the story's center, an expensive painting aptly named "Folly Leads Man to Ruin"
—well, you've got to have great characters and good comedic timing.
Unluckily for Dortmunder—but luckily for you–both Westlake and Woodman do.
(PS. Here's a little inside tip for you: Check HighBridgeAudio.com in October for a way to get Nobody's Perfect and all the titles in the Mysterious Press-HighBridge Audio Digital Classics imprint for a real steal…).