HighBridge is pleased to announce that three of our titles have been selected for World Book Night US: Pontoon, This Boy's Life, and Young Men & Fire.
Each year, 30 to 35 books are chosen by an independent panel of librarians and booksellers. Authors of the books waive their royalties and the publishers agree to print special World Book Night US editions. Bookstores and libraries sign up to be community host locations for the volunteer book givers. who then hand out 20 copies of a particular title in their community.
The selected givers choose a local participating bookstore or library from which to pick up the 20 copies of their book, and World Book Night US delivers the books to these host locations.
On April 23rd–World Book Night–the givers hand out books to those who don't regularly read and/or people who don't normally have access to printed books, for reasons of means or geography.
In Pontoon Garrison Keillor takes listeners to the fictional Minnesota town of Lake Wobegon, where a "wedding" is being planned down to the last detail, from the cheese and pâté to the flying Elvis to the pontoon boat. Meanwhile, the surprising secret life of a recently deceased good Lutheran lady comes to light, her daughter meets a lover at the Romeo Motel, and a delegation of renegade Lutheran pastors from Denmark comes to town. That's just the beginning of the stories and characters that drift in on Pontoon.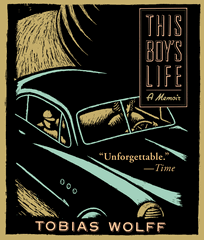 This Boy's Life, written by Tobias Wolff and read by Oliver Wyman, is a classic memoir first published in 1989. It is a grim tale of a teenaged Wolff who moves with his divorced mother from Florida to Utah to Washington State to escape her violent boyfriend. When she remarries, Wolff finds himself in a bitter battle of wills with his abusive stepfather. Deception, disguise, and illusion are the weapons the young man learns to employ as he grows up—not bad training for a writer-to-be. Somber though this tale of family strife is, it is also darkly funny and so artistically satisfying that listeners come away exhilarated.
Young Men & Fire is author Norman Maclean's classic account of the deadliest day in the US Forest Service's history, the Mann Gulch tragedy, which took place on August 5, 1949, when a crew of 15 of the U.S. Forest Service's elite airborne firefighters, the Smokejumpers, stepped into the sky above a remote forest fire in Montana wilderness. Less than an hour later, all but three were dead or fatally burned in a "blowup," an explosive 2,000 degree firestorm 300 feet deep and 200 feet tall.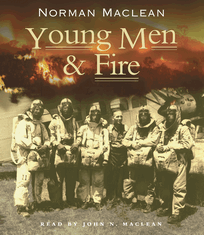 Young Men & Fire is the winner of a 1992 National Book Critic Award, and is read by John N. Maclean, son of Norman Maclean, and author of the critically acclaimed The Esperanza Fire, also available on audio from HighBridge.
World Book Night was first celebrated in the UK and Ireland in 2011; in 2012, it was also celebrated in the USA and Germany. To learn more, please visit the World Book Night website.