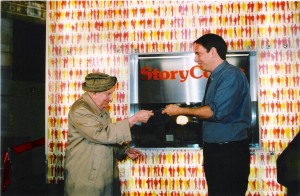 The photo says it all. Legendary oral historian Studs Terkel passing the torch to StoryCorps founder Dave Isay at the 2003 launch of the StoryCorps recording booth in New York's Grand Central Terminal. The great work of StoryCorps – to chronicle and celebrate the rich and compelling lives of average Americans in their own voices – has continued for ten years now. To mark the occasion, HighBridge has released Ties That Bind: Stories of Love and Gratitude from the First Ten Years of StoryCorps. This collection of audio highlights from the weekly NPR program features some of the most moving conversations captured by StoryCorps over the years: Everyman poet Danny Perasa expresses his undying love for his wife Annie, even as his own death from cancer approaches. Monique Ferrer remembers the final phone call with the father of her children – from atop a doomed tower on 9/11. Mary Johnson forgives – and finds love in her heart – for the convicted killer of her own son. These stories inspire and entertain in surprising, emotionally charged ways.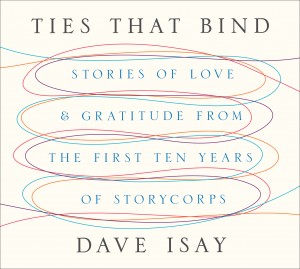 Throughout the program, Dave Isay is joined in conversation by NPR's Scott Simon as they reflect on the inherent beauty and surprising strength people find in their own stories. Isay makes clear that his story-filled journey has been a rewarding experience and it's clear to this listener that his vision to set about collecting and sharing these stories is a true gift – for all of us.
While Scott Simon's commentary always carries a hefty dose of humor and humanity, when he interviews his own mom in the StoryCorps booth he connects with us on an even deeper level. She passed away shortly thereafter, but thanks to StoryCorps, she was able to leave an important message – presented here in her own voice – as part of her legacy: "Enjoy the moment."
Studs Terkel (1912-2008) is also no longer with us, but the Pulitzer Prize winner who started collecting stories as a boy in his parents' Chicago rooming house would be delighted to know that, after ten years, StoryCorps is still giving voice to lives that matter, "celebrating the uncelebrated." This great work continues, and is evident here in Ties That Bind.