Now a major motion picture starring Keanu Reeves (release date December 25), John Allyn's definitive telling of this unforgettable tale has been the gold standard of this story for almost 50 years. Allyn lived in Japan for a number of years studying Japanese literature and theater, later earing his PhD in theater history (with an emphasis on Japanese theater, of course) from UCLA upon his return to the United States.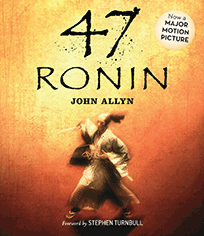 A legendary story that exemplifies the definition of bushidō (a code of chivalry among the samurai class, stressing frugality, loyalty, martial arts mastery, and honor unto death), 47 Ronin is the story of a band of samurai who defied the Emperor to avenge the disgrace and death of their master, and faced certain death as a result. Believe it or not, the story of the revenge of the forty-seven rōnin (pronounced ROH-neen), has roots in reality. The event, which took place in Japan at the start of the 18th century, involved a somewhat minor feudal lord, Asano Naganori, who was sentenced to commit seppuku (ritual suicide) for assaulting a court official named Kira Yoshinaka.
No one will ever know the "real" story of what happened on the fateful day that Lord Asano assaulted the court official, but fictionalized accounts over the years make Kira out to be a greasy, weasely, corrupt official, who hurls continuous insults at Lord Asano. Finally, after Kira insults his wife, Lord Asano can simply take no more, and attacks him with a dagger. Unfortunately, violence of any kind, even simply drawing your blade, was strictly forbidden in Edo Castle (home of the Shogun). Thus, Asano is ordered to commit seppuku; his goods and lands confiscated; his family exiled; and his samurai retainers become rōnin (leaderless).
Lord Asano's samurai vowed revenge, and led by Asano's chief retainer, Ōishi, they take a secret oath to avenge their master by killing Kira, knowing full well knew that doing so would mean certain death.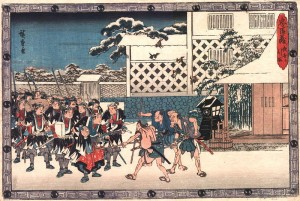 Kira was well guarded, so they knew they had to take their time and plot meticulously and accordingly. The rōnin assume new identities (teachers, tradesmen, etc.) and in essence go "undercover." They bide their time, secretly planning their attack, and carry out their revenge almost two full years after Lord Asano had been ordered to commit suicide. I guess it's true what they say: revenge is a dish best served cold. I won't give away any details of the end, but I will say that the climatic and action-packed ending is one of the reasons that John Allyn's masterful retelling of the story is considered the gold standard.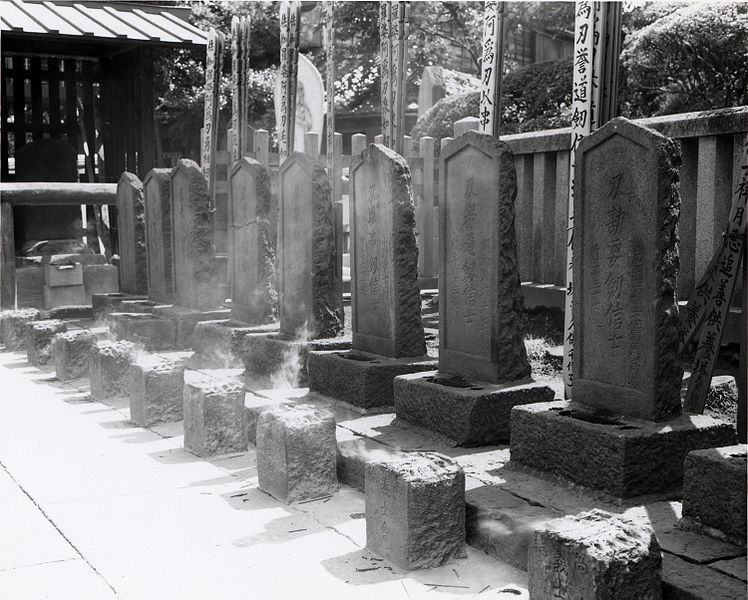 Don't skip the foreword by Stephen Turnbull. He gives some acute and academic insights into what might have really taken place, and gives a brief overview how the story of the forty-seven rōnin has been portrayed and celebrated in Japan over the past four centuries, through oral tradition, writings, paintings, plays, film, etc.  Turnbull is a celebrated British academic, historian, and writer. He is a specialist in eastern military history, particularly in that of Japan. He has authored over thirty books on samurai and the history of Japanese warfare. He even served as a consultant on the Keanu Reeves movie.
David Shih's narration truly brings life to this classic tale. His range is impeccable; from the strong gruff-voiced samurai Ōishi, to the cunning and villainous Kira, David Shih is the perfect choice for this audiobook. The audiobook is also a winner of the AudioFile Earphones Award.
While the upcoming movie version obviously takes quite a bit of liberties with the "true" story, anyone with interest in the real story of the 47 Ronin is encouraged to check out the definitive audio from HighBridge. It's more than just a revenge tale packed with action (which, incidentally, is usually enough for me), it's also a lesson in Japanese history and culture.