HighBridge is pleased to announce that The Art of Secrets by James Klise will be narrated by Dan Bittner, Denise Ashlynd, Josh Rivedal, Heather Corrigan, and Anne Twomey.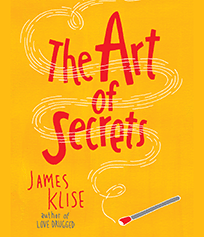 In The Art of Secrets, a  young girl's life is changed as the town rallies around her in the wake of a mysterious fire that destroys her home. A quirky piece of art donated to a school fund-raising effort for her family is revealed to be worth hundreds of thousands of dollars. Should her family have all that money? Or should it go to the school? The truth of the fire gradually comes together in an innovative narrative made up of journal entries, interviews, articles, letters, text messages, and other documents.
Dan Bittner has previously worked with HighBridge on Black Mask 5: The Ring on the Hand of Death, earning praise from both critics and peers.
Denise Ashlynd bring over 30 years of professional experience in theatre, film, television, and voiceover/narration. Read more at her website, or follow her Twitter at @DeniseAshlynd.
In addition to narrating audiobooks, Josh Rivedal is an actor, writer, and speaker. Read more about him at his website, or follow his twitter at @JoshuaRivedal.
Heather Corrigan is an accomplished narrator who previously worked on the critically acclaimed HighBridge audiobook When She Woke by Hillary Jordan.
Anne Twomey is a prolific audiobook narrator as well as a theatre, film, and television actress, with appearances on TV shows such as Seinfeld, Law & Order, and Third Watch.
The Art of Secrets will be available in April.