Robert Greene's The 48 Laws of Power is an international bestseller and has served as inspiration for a number of musicians, entrepreneurs, athletes, and actors, and "regular" folks such as myself. Read by Don Leslie, the audiobook is, at its core, a practical guide for anyone who wants power, observes power, or wants to arm themselves against power.
Some of the celebrities that cite The 48 Laws of Power as inspiration are 50 Cent, Jay-Z, Kanye West, Dov Charney, Brian Grazer, Andrew Bynum, Chris Bosh, Will Smith, to name just a few. Even former Cuban President Fidel Castro is reported to have read the book.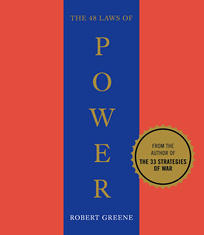 But don't be fooled. The 48 Laws of Power is much more than an amoral, cunning, ruthless, and instructive treatise on how to gain power and manipulate others. Believe it or not, it's also a great history lesson. Greene draws on more than 3,000 years of history, using the lives of strategists and historical figures like Niccolò Machiavelli, Sun Tzu, Carl von Clausewitz, Queen Elizabeth I, Henry Kissinger, P.T. Barnum, and Baltasar Gracián as notable examples. We get insights into the successes and failures of historical figures such as Napoleon, Marie Antoinette, Alexander the Great, Themistocles (Athenian politician and general), and many, many more.
Each of the 48 laws gets its own chapter, beginning with "transgression of the law" (definition) "observation of the law" (example) and a "reversal" (how to defend against). A few notable examples are: "Never outshine the master," "Always say less than necessary," "Know who you're dealing with; do not offend the wrong person," and "Master the art of timing." Some may seem obvious, but Greene presents them with powerful real-life examples that resonate and are sure to stick in your mind long after you are done listening.
Don Leslie is the perfect choice to read this book. His voice rings with intelligent authority as he delivers examples of power. Strange as it sounds, you can almost feel the power growing within you as you listen and allow the lessons to soak in.
The 48 Laws of Power is sure to fascinate anyone interested in gaining, observing, or defending against ultimate control. But it is more than just a fascinating book to listen to. This audiobook has the potential to change, perhaps even save, your life.