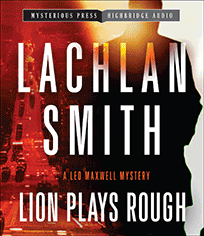 Lion Plays Rough by Lachlan Smith, read by R. C. Bray, is Smith's second entry in his Leo Maxwell Series, and proves that the series definitely has staying power. Publishers Weekly called the novel a "finely paced mystery" and went on to say it is "full of intelligent plot twists and should appeal to any fan of good writing." Booklist said the book was full of ". . . polish in its blend of ironic narration, classic noir overtones, and artfully drafted characters."
I couldn't agree more with these reviews, but feel compelled to mention that the addition of narrator R. C. Bray on the audio version elevates the story even that much more. Bray, who I admit is personally one of my favorite audiobook narrators, delivers a perfect performance. To me, R. C. Bray is Leo Maxwell, and his range of voices for the other characters in the narrative is nothing short of phenomenal.
Lion Plays Rough picks up right where Bear is Broken left off—young criminal defense lawyer Leo Maxwell is still living the shadow of his older brother, Teddy, who was once San Francisco's most ruthless and effective criminal defense lawyer, but was shot in the head, leaving him disabled and dependent on Leo, and now unable to practice law. Leo is working for Teddy's ex-wife, Jeanie, who has taken over Teddy's practice and clients.
Eager to strike out on his own, Leo stumbles onto what he believes to be career-making case. However, he soon finds out that nothing is what is seems, and he has inadvertently placed himself smack-dab in the middle of a scandal that threatens to rock the entire city of Oakland. He quickly becomes a target of both police and gang members, and finds it impossible to know who is telling the truth, and who he can trust.
As if dodging bullets and attempts on his life wasn't enough, Leo soon finds himself trying to perform a delicate balancing act with his commitments to Jeanie's practice, his new potential case, and caring for his disabled brother.
Lachlan skillfully weaves plot threads and characters together into a complex and compelling story that is full of action, mystery, intrigue, and tension. It's an extremely intelligent story with several twists and turns that keep you guessing all the way through. I look forward to additional installments in the Leo Maxwell series from Lachlan Smith, and definitely look forward to R. C. Bray narrating them.
Lion Plays Rough is now available on audio CD or digital download.