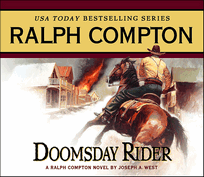 You don't really see a lot of westerns on the bestseller list these days. Personally, I think that's a crying shame. In general, westerns represent tried-and-true fundamental themes such as honor, justice, defense/protection (in a western it's most commonly someone defending his or her land), and the moral limits of revenge and retribution.
These themes are timeless – it doesn't matter whether the story is a western yarn taking place in 1870, or a sci-fi tale taking place on Mars in 2155. When you think about it, is there really much difference between Big Jake and Han Solo? (Heck, John Wayne's Big Jake even has a canine companion, not much unlike Harrison Ford's Han Solo with his constant Wookiee companion, Chewbacca.) The heroes of the western genre are guys you can look up to – brave and tough, maybe sometimes a little bit of an outcast or loner, but always willing to stand up for what is right.
In Doomsday Rider, Buck Fletcher is facing a twenty-year sentence for a crime he didn't commit. Senator Falcon Stark steps up and gives Fletcher a shot at redemption, all he has to do ride deep into the unforgiving Arizona Territory and rescue the senator's daughter from crazy doomsday cult. If only it were that easy. Fletcher soon finds himself dealing with a bloodthirsty band of Apaches, as well as a relentless bounty hunter.
Doomsday Rider is a classic western tale, and includes all the tropes. Nothing is what it seems, and we get more than one double cross. The villains are so classically shady, I can almost see them twirling their dark, bristly mustaches as narrator Terry Evans delivers their lines. Doomsday Rider is indeed classic western material, but thankfully doesn't fall into the cliché category. The story gives you what you want, and then some. Watch out for a few unexpected twists along the way.
Speaking of the performer, Terry Evans expertly narrates the western, bringing Ralph Compton's stories to life. Evans' voice harks back to the days when westerns ruled cinema and television. Evans offers just enough southern drawl, careful that every word is clear and understandable. His character voices are spot on, allowing you to get a clear picture in your mind of what each character looks like — mostly based on the voices alone.
Doomsday Rider is currently available on CD or digital download.
Also available:
Louis L'Amour Collection
Starring Willie Nelson, Kris Kristofferson, Waylon Jennings, and Johnny Cash!