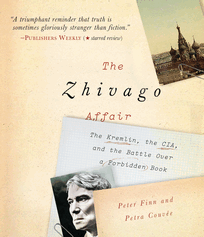 The Zhivago Affair tells the dramatic, never-before-told story of how a forbidden book in the Soviet Union became a secret CIA weapon in the ideological battle between East and West.
The audiobook is narrated by Simon Vance. Simon has been narrating audiobooks for more than 30 years and has completed more than 700 titles. He has won accolades from across the publishing world and beyond for his masterful ability to bring books to life. You can hear Simon's recent recording of The Hidden Child by Camilla Läckberg, and his work on the upcoming October release of Cobra by Deon Meyer.
The Zhivago Affair is now available on audio CD and digital download.
To celebrate the publication of The Zhivago Affair by Peter Finn and Petra Couvée, Pantheon Books is giving away a selection of Zhivago-related goodies! The winner will receive a copy of the original Doctor Zhivago by Boris Pasternak, a DVD of the 1965 film adaptation, a copy of The Zhivago Affair, and a pair of copper Moscow Mule mugs. To enter the contest, visit Pantheon Books Facebook page.