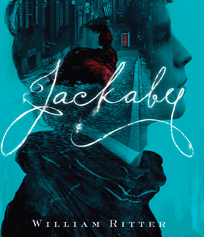 Jackaby is a tale brimming with cheeky humor and a dose of the macabre. Doctor Who meets Sherlock in William Ritter's debut novel, which features a detective of the paranormal as seen through the eyes of his adventurous and intelligent assistant.
Newly arrived in New Fiddleham, New England, 1892, and in need of a job, Abigail Rook meets R. F. Jackaby, an investigator of the unexplained with a keen eye for the extraordinary–including the ability to see supernatural beings. Abigail has a gift for noticing ordinary but important details, which makes her perfect for the position of Jackaby's assistant. On her first day, Abigail finds herself in the midst of a thrilling case: A serial killer is on the loose. The police are convinced it's an ordinary villain, but Jackaby is certain it's a nonhuman creature, whose existence the police–with the exception of a handsome young detective named Charlie Cane–deny.
The audiobook is narrated by Nicola Barber. Nicola is an Award-Winning British Voice Over actor originally from London, UK with over 12 years of experience. She is a two-time Audie Award Winner and recently won two Earphones Awards. Nicola is based in New York City and has her own professional studio. You can hear Nicola's recent recording of Call the Midwife: Shadows of the Workhouse and Call the Midwife: Farewell to the East End by Jennifer Worth, and her work on the upcoming December release of The Case of the Missing Moonstone by Jordan Stratford.
Jackaby will be available on audio CD and digital download September 9.
Meet the cast of Jackaby!


Author Insights: William Ritter on writing Jackaby