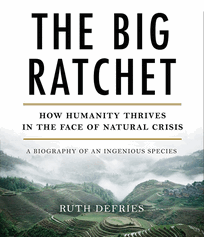 Ruth DeFries is a Columbia University professor and MacArthur Fellow who explains an interesting detail of evolution. Have you ever wondered how a species that was essentially a hunter-gatherer tribe came to completely dominate the entire planet? Do you know that we produce enough food to feed every single human being a diet of 3,000 calories per day, every day? That's essentially what has enabled us to thrive, grow, and populate practically every corner of the planet. When we nourish, we flourish.
With an abundant food supply, population grows. It hasn't always been easy though. Every time population starts to exceed our ability to survive, we have somehow always found a way to surge ahead quickly and meet that demand. Evolution is not a fluid constant. There are plateaus and peaks, and when we really really need something major to happen, somehow it always has. That is the idea behind Ruth DeFries' The Big Ratchet: How Humanity Thrives in the Face of Natural Crisis. Whether it's a scientific discovery or change in how we live, humans have always found a way when we needed it most.
Is it no wonder that all this technological innovation of the last few hundred years has coincided with a massive increase in global population? From innovations in food production, fossil fuel consumption, and water management, our success as a species depends on our ability to feed everyone. DeFries looks at the past and how we've managed, and she looks to the future and wonders about what is next and what would the consequences be if there were ever a time when we needed that Big Ratchet, and it didn't come?
The Big Ratchet is now available for purchase on audio CD and digital audio.
Did you see the book review of The Big Ratchet in The Wall Street Journal?