Ordinary women in 1920s America. All they wanted was the chance to shine . . . Be careful what you wish for.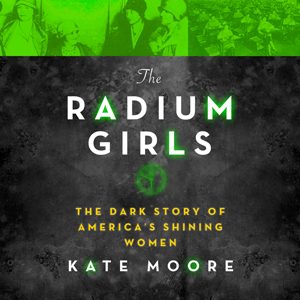 1917. As a war raged across the world, young American women flocked to work, paintingwatches, clocks and military dials with a special luminous substance made from radium. It was a fun job, lucrative and glamorous—the girls themselves shone brightly in the dark, covered head to toe in the dust from the paint. They were the radium girls. Read the full description.
"This timely book celebrates the strength of a group of women, whose determination to fight improved both labor laws and scientific knowledge of radium poisoning." –Booklist Starred Review

"Moore's well-researched narrative is written with clarity and a sympathetic voice that brings these figures and their struggles to life." –Library Journal Starred Review
________________________
How to Win This Audio CD
1. Send an email to newsletter@highbridgeaudio.com
2. Put the word "Shining" in the subject line.
Entries must be received by May 31, 2017. Open to US only.
See the Program Details for more information.
________________________
April Giveaway Winner
Congratulations to Elvin Wren, winner of last month's giveaway, Sympathy. Thanks to all who participated.