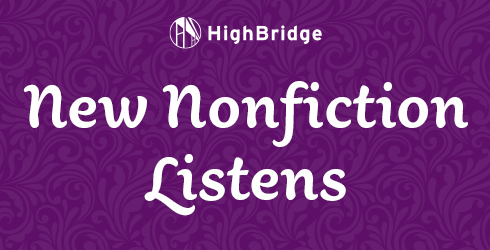 Forever and Five Days: The Chilling True Story of Love, Betrayal, and Serial Murder in Grand Rapids, Michigan
Written by Lowell Cauffiel
Read by Chris Abernathy
Bestselling author Lowell Cauffiel's "auspicious debut in the true-crime genre . . . [a] sensitive and searching story of the murders of at least six nursing home patients" (Publishers Weekly).
Churchill's Shadow: The Life and Afterlife of Winston Churchill
Written by Geoffrey Wheatcroft
Read by Jonathan Keeble
A major reassessment of Winston Churchill that examines his lasting influence in politics and culture.
When Women Ruled the World: Making the Renaissance in Europe
Written by Maureen Quilligan
Read by Suzanne Toren
A leading Renaissance scholar shows in this revisionist history how four powerful women redefined the culture of European monarchy in the glorious sixteenth century.
"With meticulous attention to the letters and gifts they exchanged, Quilligan argues that [Mary Tudor, Elizabeth I, Mary Stuart, Queen of Scots, and Catherine de' Medici] nurtured a culture of mutual respect… A useful addition to the literature on European royalty… An authoritative and sympathetic collective biography."― Kirkus Reviews
Work Without the Worker: Labour in the Age of Platform Capitalism
Written by Phil Jones
Read by David Vickery
An accessible analysis of the new forms of work whose seismic changes will increasingly determine the future of capitalism.
O Death, Where Is Thy Sting?: A Meditation on Suffering
Written by Joe Hoover SJ
Read by Author
A book of theodicy that employs stories from unique, compelling angles on everything from philosophy and theology to art, theater, sports, and social justice as it grapples with suffering.
What a relief and, strangely, a comfort to be allowed inside a Jesuit brother s own dark nights of questions and quandaries. Readers will feel accompanied in their own profound doubts and sufferings. The load gets lighter shared. –Julia Alvarez, author, Afterlife
How Are You? Connection in a Virtual Age: A Therapist, a Pandemic, and Stories about Coping with Life
Written by Therese Rosenblatt, PhD
Read by Kelli Tager
By turns a memoir, a chronicle, and a provocative contemplation of our new socially distanced and virtual world, How Are You? tells the story of how a therapist found herself plunged overnight into the unsettling reality of a pandemic and all-virtual therapy.