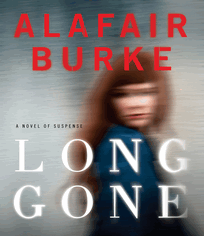 With a thriller author as talented as Alafair Burke, nothing is as it seems. Friends become enemies. Dream jobs become murder scenes. Even the title strives to deceive you—for Long Gone is not long gone at all. It's right here at HighBridge, and it's available on audio today!
Long Gone follows Alice Humphrey. After a layoff and months of struggling, she's finally landed her dream job managing a new art gallery in Manhattan's trendy Meatpacking District. In short order, however, that dream devolves into a nightmare. Alice arrives at work to find the gallery gone—the space stripped bare as if it had never existed—and her employer's dead body on the floor. Overnight, she finds herself at the center of police attention with nothing to prove her innocence. Now she has to prove it herself: a dangerous search for answers that will entangle her in a dark, high-tech criminal conspiracy and force her to unearth long-hidden secrets involving her own family . . . secrets that could cost Alice her life.
Critics are already billing Long Gone as one of the top thrillers of the summer. BookPage writes, "Highly suspenseful and cleverly crafted with a neat twist ending, Long Gone is a solid bet for the summer bestseller lists." Publisher Weekly writes, "Burke skillfully orchestrates the mounting tension and claustrophobia of Alice's world collapsing in on itself." And People has added it to their list of great summer reads for its "fast-paced fun." You can check out even more reviews on Burke's website. And her book trailer is below:
Burke's a busy lady these days. She's guest blogging for Powell's  Books, the venerable Portland-based independent bookseller that Burke used to haunt as a college student. She's on tour, with visits scheduled all over the country (there's also some web cam appearances—you won't even have to leave your house!) And last but certainly not least, she's hosting the Duffer Awards (details also to be found on her website). Named after Burke's dog, The Duffers are humorous awards (such as "Most Likely to Know the Emergency Room Workers by First Name") for which legendary thriller characters are in the running. The "awards competition" is going on for the entire month of June. Be sure to get your votes in—you'll be registered for cool prizes every time you do.
So if you find your summer is lacking a little excitement, try giving Long Gone a listen. We've got a free excerpt on our page to make things easy. In the words of Lisa Unger, best-selling author of Darkness My Old Friend, "If you already love Alafair Burke's novels, buckle up for her best book ever. If you haven't read"—or listened!—"to her yet, the time is now."