With Headstone, the ninth book in the Jack Taylor series, author Ken Bruen offers up some of the hardest-boiled, dark noir, detective/crime fiction I have ever experienced. And while it is the ninth book of what is technically a series, those not familiar with previous books won't be lost in the least; it's a great point to jump on board and take a ride with Jack Taylor.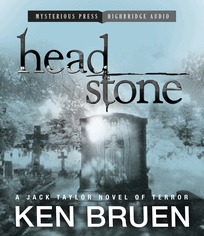 Former cop (member of the Irish Garda) turned Irish private investigator, Jack Taylor is a gritty drunken rogue on a mission to right the wrongs in Galway, Ireland. Sure, he might be selfish and addicted to painkillers and Jameson, but he still knows right from wrong, and God help you if you've wronged someone, because Jack Taylor won't rest until he makes sure it's set right. He is Ireland's very own anti-hero.
In Headstone, Jack Taylor really gets put through the ringer. He is beat up, maimed, and even loses his girlfriend. But that doesn't stop him from hunting down a group of sadistic thugs—thugs who actually have their sights set on Taylor himself. Against all odds, he races against time to stop them from doing something absolutely horrifying, but the book doesn't end there. Bruen throws in several plot twists and turns; curveballs to keep you on your toes and at the edge of your seat anticipating what will happen next. Personally, I love a good plot twist. If an author can throw something at me that I don't see coming, I assign the book an automatic A+.
Bruen's writing is edgy and has a very dark tone; however, it is also peppered with plenty of humor. Okay, mostly dark humor, but there were moments throughout the narrative where I smiled or even laughed out loud.  Bruen's style is distinct, and feels very Irish. Narrator John Lee expertly gives voice to Jack Taylor, and sets the scenes perfectly. You almost feel as if you are riding shotgun with Taylor through Galway (pun intended).
Headstone is about as hard boiled as it gets, and is highly recommended for crime fiction fans, detective fiction fans, and fans of just plain-old great audiobooks.
And if you love Headstone, don't miss out on Jack Taylor's next adventure in Purgatory, coming in November.