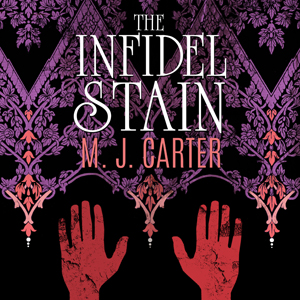 The Infidel Stain
Book 2 in the Blake and Avery Mystery series
By M. J. Carter
Read by Alex Wyndham
London, 1841. Returned from their adventures in India, Jeremiah Blake and William Avery have both had their difficulties adapting to life in Victorian England. Moreover, time and distance have weakened the close bond between them, forged in the jungles of India. Then a shocking series of murders in the world of London's gutter press forces them back together.
The police seem mysteriously unwilling to investigate, then connections emerge between the murdered men and the growing and unpredictable movement demanding the right to vote for all. In the back streets of Drury Lane, among criminals, whores, pornographers, and missionaries, Blake and Avery must race against time to find the culprit before he kills again. But what if the murderer is being protected by some of the highest powers in the land?
"Outstanding . . . Carter excels at incorporating the volatile politics of the time into her cleverly constructed plot, which repeatedly confounds readers' expectations while presenting moving scenes of the plight of London's poor reminiscent of Dickens." —Publishers Weekly Starred Review
________________________
How to Win This Audio CD
Send an email to newsletter@highbridgeaudio.com
Put the word "Infidel" in the subject line.
Entries must be received by 04/30/2016.
See the Program Details for more information.
________________________
March Giveaway Winner
Congratulations to Susan Trower, winner of last month's giveaway, Charlotte Brontë!
Thanks to all who participated.