In this eye-opening memoir, Simon de Pury, a distinguished auctioneer and art dealer, provides a lively account of his flashy career and today's soaring art market – revealing a jet-setting, powerful, and private club of elites who buy, sell, and collect the world's most expensive art.
"Simon's boundless energy is unparalleled. He transforms the auction house from a marketplace to a rock arena." ―Sarah Jessica Parker
"Simon de Pury is an aristocrat in the best sense of the word. His mission is to bring beauty to the people. This book is a wild ride that will get you hooked on art." ―Russell Simmons
Read the full description.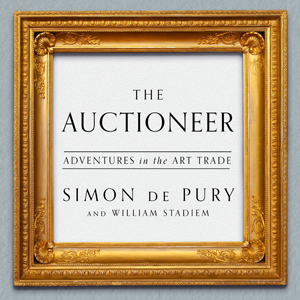 The Auctioneer: Adventures in the Art Trade
By Simon de Pury and William Stadiem
Read by Ralph Lister
________________________
How to Win This Audio CD
Send an email to newsletter@highbridgeaudio.com
Put the word "Auctioneer" in the subject line.
Entries must be received by 05/31/2016.
See the Program Details for more information.
________________________
April Giveaway Winner
Congratulations to Teresa Meza, winner of last month's giveaway, The Infidel!
Thanks to all who participated.